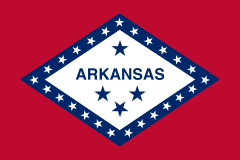 Voting in Arkansas
Promoting Democracy Through Education
www.mytimetovote.com
Am I Eligible To Vote in Arkansas?
To register to vote in the State of Arkansas, an individual must meet the following qualifications:
Be a United States Citizen
Be an Arkansas resident (residing in Arkansas at least 30 days prior to the first election in which you will vote).
Be age 18 or turn 18 on or before the next election.
Not be a convicted felon whose sentence has not been discharged or pardoned.
Not be presently adjudged as mentally incompetent as to your ability to vote by a court of competent jurisdiction.
Voting QuickLinks
Voter Registration Options in Arkansas
You have the following 2 options to register to vote in Arkansas:
---
Voting Options in Arkansas
You have the following 3 options to vote in Arkansas: