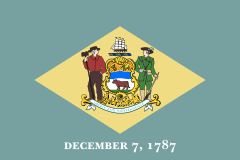 Voting in Delaware
Promoting Democracy Through Education
www.mytimetovote.com
Am I Eligible To Vote in Delaware?
Felons are eligible to vote if they meet the following requirements:
A person convicted of a felony may register and vote if he/she meets the conditions stated in the next section.
You cannot register to vote if you have been adjudged mentally incompetent. "Adjudged mentally incompetent" refers to a specific finding in a judicial guardianship or equivalent proceeding, based on clear and convincing evidence that the individual has a severe cognitive impairment which precludes exercise of basic voting judgment.
You may register to vote if you are: a United States Citizen; a permanent resident of Delaware; at least 18 years old on the date of the next General Election; not adjudged to be mentally incompetent; or an ex-felon who meets the requirements as specified by law according to 15 Del C. Chapter 61. If you indicate that you are not a citizen or fail to answer that question, your application will be rejected. The last day to register in time to vote in the next election is the fourth Saturday (or 28 days) before the election.
Voting QuickLinks
Voter Registration Options in Delaware
You have the following 4 options to register to vote in Delaware:
---
Voting Options in Delaware
You have the following 3 options to vote in Delaware: