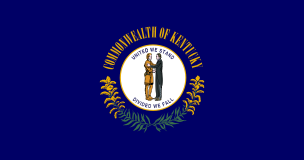 Voting in Kentucky
Promoting Democracy Through Education
www.mytimetovote.com
Am I Eligible To Vote in Kentucky?
To register to vote in the State of Kentucky, an individual must meet the following qualifications:
You are a United States citizen;
Must be a resident of Kentucky not less than 28 days before the election.
Must be at least 18 years old or will be 18 by the date of the next general election.
Not be a convicted felon (or, if so, have civil rights restored)
Not have been judged mentally incompetent in a court of law and have voting rights removed.
Not claim the right to vote anywhere outside Kentucky.
Minors 17 years of age who will become 18 by the November general election are eligible to vote in the prior May primary election only.
Voting QuickLinks
Voter Registration Options in Kentucky
You have the following 3 options to register to vote in Kentucky:
---
Voting Options in Kentucky
You have the following 2 options to vote in Kentucky: