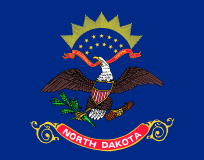 Voting in North Dakota
Promoting Democracy Through Education
www.mytimetovote.com
Am I Eligible To Vote in North Dakota?
To register to vote in the State of North Dakota, you must be:
A United States Citizen,
A Resident of North Dakota,
18 years of age or older on Election Day, and
A precinct resident for 30 days preceding the election.
Able to provide a driver's license, non-driver identification card, tribal identification, or long-term care certificate
North Dakota is the only state without voter registration. Although North Dakota was one of the first states to adopt voter registration prior to the turn of the century, it abolished it in 1951. It is also worth noting that North Dakota law still provides cities with the ability to register voters for city elections.
Voting QuickLinks
Voter Registration Options in North Dakota
You have the following 1 options to register to vote in North Dakota:
---
Voting Options in North Dakota
You have the following 2 options to vote in North Dakota: