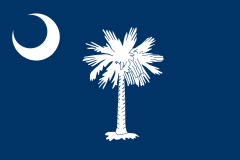 Voting in South Carolina
Promoting Democracy Through Education
www.mytimetovote.com
Am I Eligible To Vote in South Carolina?
Who Can Register?
be a United States citizen -be at least eighteen years old on or before the next election
be a resident of South Carolina, this county and precinct
not be under a court order declaring you mentally incompetent
not be confined in any public prison resulting from a conviction of a crime
have never been convicted of a felony or offense against the election laws OR if previously convicted, have served the entire sentence, including probation or parole, or have received a pardon for the conviction.
In order to vote, South Carolina law requires one must first register to vote at least 30 days prior to the election. To be eligible to register in South Carolina you MUST:
There is no length of residency requirement in South Carolina in order to register to vote. You can register at any time.
ou must be registered at least 30 days prior to any election in order to vote in that election.
Voting QuickLinks
Voter Registration Options in South Carolina
You have the following 3 options to register to vote in South Carolina:
---
Voting Options in South Carolina
You have the following 3 options to vote in South Carolina: