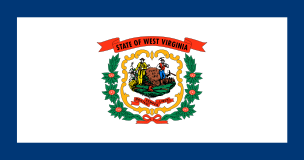 Voting in West Virginia
Promoting Democracy Through Education
www.mytimetovote.com
Am I Eligible To Vote in West Virginia?
As stated by West Virginia Code, you are eligible to vote in West Virginia if you are:
A resident of West Virginia and the county in which you register.
A U.S. Citizen.
At least 17 years old, and 18 before the next General Election. (Seventeen year olds may register and vote in primary elections, if they turn 18 by the next General Election.)
Not currently under conviction for a felony, including probation or parole, or a court ruling of mental incompetence. Voting rights are restored when the term of conviction ends.
Please register only if you are an eligible West Virginia resident. If you reside in another state, use USA.gov to find links to your home states registration information. Voter registration before an election closes on the twenty-first day before the election or on the first day thereafter which is not a Saturday, Sunday or legal holiday.
Voting QuickLinks
Voter Registration Options in West Virginia
You have the following 3 options to register to vote in West Virginia:
---
Voting Options in West Virginia
You have the following 4 options to vote in West Virginia: