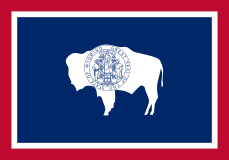 Voting in Wyoming
Promoting Democracy Through Education
www.mytimetovote.com
Am I Eligible To Vote in Wyoming?
Who is covered under UOCAVA
U.S. Citizens, 18 years of age or older who are active duty members of the Armed Forces, Merchant Marine, Public Health Service, the National Oceanic and Atmospheric Administration (NOAA) Commissioned Corps
Eligible family members (U.S. citizens, 18 years or older) of military personnel
U.S. Citizens residing outside the United States.
You do not need to re-register to vote in the upcoming General Election if you voted in the last General Election.
If you moved within the county to another precinct or changed your name, you must notify the county clerk.
Voting QuickLinks
Voter Registration Options in Wyoming
You have the following 3 options to register to vote in Wyoming:
---
Voting Options in Wyoming
You have the following 2 options to vote in Wyoming: