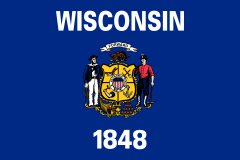 Voting in Wisconsin
Promoting Democracy Through Education
www.mytimetovote.com
Am I Eligible To Vote in Wisconsin?
To register to vote in the State of Wisconsin, an individual must meet the following qualifications:
Be a citizen of the United States
Be a resident of Wisconsin for at least 28 days
Be 18 years old
Not have been convicted of treason, felony or bribery, or if civil rights have been restored
Not have been found by a court to be incapable of understanding the objective of the electoral process
Not make or benefit from a bet or wager depending on the result of an election
Not have voted at any other location, if registering on Election Day
Voters must reside at their address for at least 28 days by Election Day in order to register to vote. Voters who have moved within Wisconsin less than 28 days before the election must vote from their previous address, either by absentee ballot or at the polling place. Voters who have moved to Wisconsin from another state less than 28 days before an election are only eligible to vote in Presidential elections.
Voting QuickLinks
Voter Registration Options in Wisconsin
You have the following 4 options to register to vote in Wisconsin:
---
Voting Options in Wisconsin
You have the following 3 options to vote in Wisconsin: